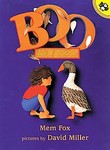 Every Tuesday at 10:30 am, our Local County Library has story time for children 2 and up.  It is a very enjoyable time of stories, reading, and singing.  Caeden has always loved reading and Owen will get there someday.  At this point, Owen would rather run around and knock the books off of the shelves, than sit down and listen to a story.  
Every Tuesday, we have checked out  books for reading during the week.  We started with one book the first week, and today we brought home 6.  I want to keep a list of all the books that we have really enjoyed over the weeks.  What better way to do that than on my blog, because if i write it down, most likely i will lose the paper.  
Both books are fun and and witty and contain a lot of pictures of animals, which are enjoyed by both the boys.